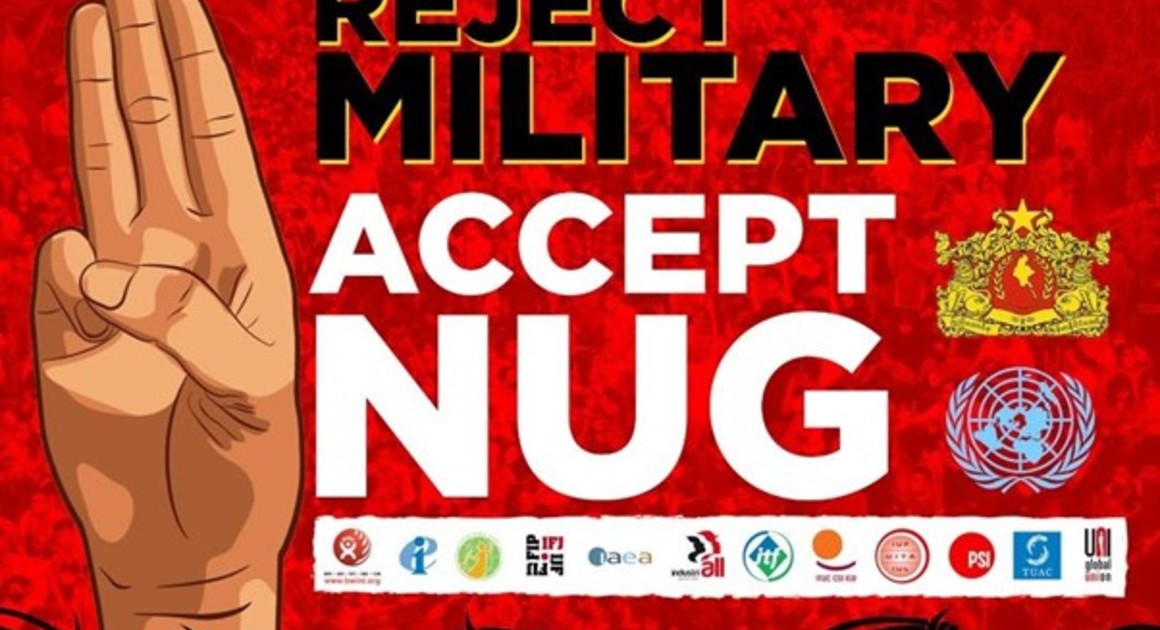 Global Union Day of Action for Myanmar
Sep 15, 2021
In coordination with the Council of Global Unions (CGU), PSI is calling on affiliates to take part in the Global Union Day of Action Day for Myanmar on 15 September, on the occasion of the International Day of Democracy.
Trade unions in Myanmar are seeking our support to stop the military-led State Administration Council (SAC) from gaining recognition at the 76th UN General Assembly (UNGA) 14-30 September 2021 and instead have the National Unity Government (NUG) recognised as the legitimate government of Myanmar. Unions successfully campaigned to reject the credentials of the SAC military at the ILO in June and adopted the ILO Resolution for a return to democracy and respect for fundamental rights in Myanmar. The Civil Disobedience Movement (CDM) and the Myanmar Labour Alliance, including the Confederation of Trade Unions in Myanmar (CTUM) and health workers supported by PSI affiliates are calling for a global #AcceptNUG campaign and sustained support for their struggle.
Your action will amplify the movement in Myanmar. We urge you to act and stand with the people of Myanmar.
Take action
Send letters to your parliamentarians and your minister of foreign affairs calling for recognition of the NUG at the UNGA.

Send solidarity messages to the striking workers in Myanmar, which will be translated into Burmese and shared.
Guidelines for your contribution:
Our messages should contain one or more of the following themes:

Rejection of the military, recognition of NUG

Divestment and economic sanctions

Release of trade unionists

The length of the message should be fewer than 50 words. The fewer, the better!

For example:

"In solidarity with the people of Myanmar, we call for the immediate end of military violence and power, release of all political prisoners and restoration of civilian government."
Elizabeth Tang, General Secretary, International Domestic Workers Federation (IDWF)
In addition, we encourage you to send a solidarity photo showing the three finger salute. Please take your photo in landscape orientation.

You may also send a short video message or a video of your union chanting slogans. The video should be less than 30 seconds, shorter the better! Please record the video in landscape orientation.

Please share any other creative content for including in the video!

Please send your contribution to [email protected] with the subject line "Solidarity message for Myanmar Global Day of Action".
Organise online and offline campaigns to promote NUG recognition and share your activities on social media using the hashtags #Workers4Myanmar #AcceptNUG

Sign the petition for recognition of the NUG at the UNGA.
Act now
Contribute files and links anonymously