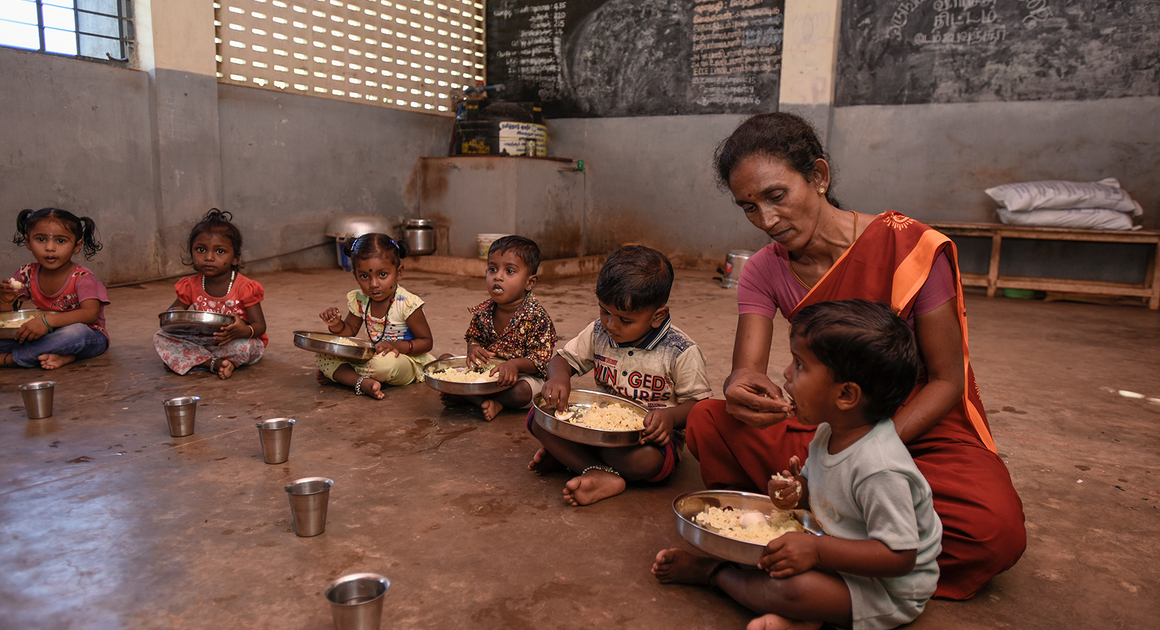 بيان: إعادة هيكلة عملية تنظيم الرعاية الاجتماعية
Sep 20, 2021
اليوم، نجد أنفسنا على مفترق طرق. فقد كشفت جائحة كورونا الأزمات المتعددة والمتداخلة التي امتدّ أثرها ليشمل جميع أنحاء العالم.
انضموا معنا إلى الحركة العالمية التي تدعو إلى إعادة بناء تنظيم الرعاية الاجتماعية. لقد حان الوقت للاعتراف بالقيمة الاجتماعية والاقتصادية لأعمال الرعاية (مدفوعة الأجر أو غير مدفوعة الأجر) وحق الإنسان في الرعاية. أضِف توقيعك على هذا البيان.
على مدى التاريخ وفي صميم هذه الأزمات، تُلقى أعمال الرعاية الاجتماعية على أكتاف المرأة. فالرعاية مرتبطة بمنح الحياة، والتأسيس، أي إلى صلب الولادة البشرية والولادة العالمية، وبالتالي إلى الوظائف الاقتصادية.
يتلخص التنظيم الحالي للرعاية الاجتماعية بما يلي: كيفية تلبية احتياجات الرعاية؛ والترابط بين أعمال الرعاية غير مدفوعة الأجر(في ظل) أعمال الرعاية المدفوعة الأجر، وتوفير الخدمات العامة، توفير الخدمات الخاصة وترتيبات الرعاية المجتمعية غير متوازن أساسًا وغير متكافئ ولا يمكن تحمله في نهاية المطاف. ويُلقي هذا التنظيم العبء والثقل وأغلبية عمل الرعاية الضرورية والعمل المنزلي على عاتق المرأة.
في المنزل وداخل المجتمعات المحلية، ومن خلال سلاسل الرعاية الاجتماعية العالمية التي تعيش فيها النساء في فقر، تسد المرأة ذات البشرة السوداء والبنية من جنوب القارة فجوة الرعاية بينما تتقاضى أجورًا زهيدة وفي ظروف عمل هشة من خلال تقديم الخدمات العامة والخاصة على حد سواء. ويتضاعف هذا الظلم على النساء اللواتي يواجهن العديد من حالات التمييز بسبب طبقتهن الاجتماعية أو عرقهنّ أو ميولهن الجنسيّة أو قدرتهنّ البدنيّة أو العمر أو حالة الهجرة.
فأزمة عمل الرعاية الاجتماعية القائمة في جميع أنحاء العالم على التمييز العنصري والجندري يجب أن تنتهي!
وكثيرًا ما تنسب الدول إخفاقها في إحقاق حقوق المرأة إلى افتقارها إلى الموارد المالية. ويواصل النظام الضريبي الدولي الفاشل - والنظام الاقتصادي الليبرالي الجديد بشكل عام - تسهيل انتزاع الثروة من الشعب - وخاصة من جنوب القارة - وتركيزه في أيدي قلة من النخبة - معظمهم من رجال شمال القارة.
ومن ناحية أخرى، يعمل إلغاء القوانين التنظيمية، والخصخصة، والضبط المالي (التقشف)، وإلغاء أعباء ديون الاستعماريات الجديدة، على ترسيخ اختلالات القوى بين النساء والرجال، وبين القارة الجنوبية والشمالية، وبين العمّال والشركات. مما يستنفد الموارد العالمية والمحلية لتمويل خدمات الرعاية العامة النوعية ويتيح توفير أعمال الرعاية اللائقة والمدفوعة بأجر جيد وكذلك الحماية الاجتماعية العالمية.
وفي هذا السياق، فإن السياسات الضريبية الوطنية السيئة، والتي كثيرًا ما تشجعها أو تفرضها المؤسسات المالية الدولية، تقوّض مسؤولية الدول عن توفير الخدمات العامة التي تضمن الحقوق.
نطالب بوضع حدّ للنموذج المهيمن والنظام الاقتصادي الذي لا يقوض حقوق المرأة فحسب، بل يزيد عدم المساواة الجندرية. ونطالب بوضع حدّ لعدم استعداد الدول، والقيام بتخصيص الموارد، وبناء القدرة على تنظيم الرعاية باعتبارها منفعة عامة. إننا نرفض قيام الشركات ونتصدى له.... ولاسيما الشركات التي لا تمتثل لالتزاماتها باحترام حقوق الإنسان وحمايتها وإحقاقها. ونطالب الدول بأن تعتبر الرعاية الاجتماعية مصلحة عامة ومسؤولية اجتماعية جماعية، بدلًا من حصرها في إطار المسؤولية "الخاصة" بالأسرة والتي تقع أساسًا على عاتق المرأة. وسيؤدي هذا المسار إلى انهيار البشرية وكوكب الأرض، إذ إنه يهدّم النساء. ومن هنا، ضرورة وضع حدّ لهذه الأزمة الآن!
ومن هنا، ندعو إلى تفعيل حركة عالمية لإعادة بناء تنظيم الرعاية الاجتماعية بغية تحقيق الأهداف التالية:
الاعتراف بالقيمة الاجتماعية والاقتصادية لأعمال الرعاية (مدفوعة الأجر والغير مدفوعة) وحق الإنسان في الرعاية.

المكافأة بأجر متساوٍ عن العمل المتساوي القيمة والمعاشات التقاعدية وظروف العمل والحماية الاجتماعية.

تقليل عبء أعمال الرعاية غير مدفوعة الأجر على المرأة.

إعادة توزيع أعمال الرعاية بين جميع أفراد الأسرة والعاملين، وتغيير التقسيم الجندري لهذا العمل.

استعادة الواجب والمسؤولية للدولة التي تقع عليها مسؤولية توفير خدمات الرعاية العامة وتطوير نظم الرعاية التي من شأنها تغيير المفاهيم الجندرية وحياة المرأة - بما في ذلك عن طريق تمويل قدرة الدولة على الاستثمار من خلال فرض ضرائب عادلة وتصاعدية وضمان حقوق الدول في فرض الضرائب على قدم المساواة على الصعيد الدولي.
#MakeCarePublic - #MakeTaxesWorkForWomen
Join the supporters - you can sign the petition as an invividual or on behalf of your organisation. As an invididual, you can choose to stay anonymous or to publicly display your name.
Signatories:
Global/Regional Organisations
Public Services International - PSI

ActionAid International

Center for Economic and Social Rights - CESR

Development Alternatives with Women for a New Era - DAWN

Global Alliance for Tax Justice - GATJ

Womankind Worldwide

European Federation of Public Service Unions - EPSU

Global Alliance Against Traffic in Women

Global Initiative for Economic, Social and Cultural Rights

International Trade Union Confederation - ITUC

Tax Justice Network

Bretton Woods Project

Oxfam International

Association for Women's Rights in Development (AWID)

Right to Education Initiative

PICUM- Platform for International Cooperation on Undocumented Migrants

WIEGO - Women in Informal Employment: Globalizing and Organizing

African Women's Development and Communication Network (FEMNET)
National Organisations
Albania - Trade Union of Building, Wood and Public Service of Albania (TUBWPSA)
Argentina - Asociación del personal de la Universidad de Buenos Aires (APUBA)

Argentina - Asociación Civil GES Gestión Educativa y Social

Argentina - Confederación de Trabajadores Municipales (CTM)

Argentina - Asociación del Personal Superior de Empresas de Energía (APSEE)

Argentina - Asociación del Personal de los Organismos de Control (APOC)

Argentina - Federación Sindical de Profesionales de la Salud de la República Argentina (FESPROSA)

Argentina - Unión del Personal Civil de la Nación (UPCN)

Armenia - Republican Branch Trade Union of Health Workers of Armenia (HWUA)

Armenia - Union of State, Local Government and Public Service Employees (USLGPSEA)

Bangladesh - BNSK - Bangladesh Nari Sramik Kendra (Bangladesh Women Workers Association)

Belarus - Organisation "Social changes"

Bermuda - Bermuda Industrial Union

Bosnia and Herzegovina - Association "Novi put"

Brazil - CONFETAM/CUT

Brazil - Federação dos Trabalhadores Municipais de Santa Catarina - FETRAM/SC

Brazil -

Brazil - Sindicato dos Enfermeiros do Estado de São Paulo

Brazil - Sindicato dos Servidores Públicos Federais no Estado de Pernambuco - SINDSEP/PE

Brazil - Confederação Nacional dos Trabalhadores na Saúde (CNTS)

Brazil - ReHuNa - The Brazilian Network for the Humanization of Childbirth

Brazil - Coletivo Flores de Lótus

Brazil - Sindicato dos médicos de São Paulo - SIMESP

Brazil - CUT BRASIL

Brazil - Sindicato dos Trabalhadores na Administração Pública e Autarquias no Município de São Paulo (SINDSEP - SP)

Brazil - Sindicato Psicólogos do Estado de São Paulo

Brazil - Sindicato dos trabalhadores do CEETEPS - SINTEPS

Brazil - SINDAGUA - MS

Brazil - Sindicato dos Enfermeiros do Rio de Janeiro (SINDENF - RJ)

Brazil - Instituto EQUIT

Cameroon - Féd. Synd. Employés Santé, Pharmacies & Assimilés du Cameroun (FSESPAC)

Canada - YWCA Canada

Canada - Alliance du personnel professionnel et technique de la santé et des services sociaux APTS

Canada - Canadian Research Institute for the Advancement of Women (CRIAW - ICREF)

Canada - Child Care Now

Canada - Syndicat des professionnelles et professionnels du gouvernement du Québec

Canada - Syndicat des professionnelles et professionnels du gouvernement du Québec

Canada -

Canada - COPE SEPB

Chile - Cooperativa Desbordada

Chile - Confederación Fenpruss

Chile - Asociación Yo Cuido

Chile - Ciudad Feminista

Chile - Fundación Nodo XXI

Chile - Ciudadanas Cuidando

Chile - Asociación Yo Cuido

Chile - ANEIICH

Chile - Coordinadora No Más Afp Valdivia

Chile - Confederación Nacional de Funcionarixs de Salud Municipal (CONFUSAM)

Chile - Confederación Nacional de Funcionarios Municipales de Chile

Colombia - Federación Nacional de Trabajadores de la Industria Gráfica, Papeleros y Afines - FENALGRAP

Colombia - Sindicato de Trabajadores de Acuavalle SA ESP (SINTRACUAVALLE)

Colombia - Sindicato Nacional de Empleados Dirección de Impuestos y Aduanas Nacionales (SINEDIAN)

Costa Rica - Global Campaign for Education (GCE)

Costa Rica - Sindicato de Trabajadores de la Universidad Nacional (SITUN)

Costa Rica - Sindicato de Empleados del Ministerio de Hacienda (SINDHAC)

Costa Rica - ANEP

Curaçao - ABVO

Czech Republic - Trade Union of the Health Service and Social Care of the Czech Republic (OS ZSP ČR)

Denmark - K.U.L.U. - Women and Development

Denmark - HopeNow

Dominica - Dominica Public Service Union (DPSU)

Dominican Republic - SITRACORAASAN

Ecuador - Coalición Nacional de Mujeres del Ecuador

Ecuador - Luna Creciente Ecuador

Ecuador - Ecuador Confederation of Free Trade Union Organizations (CEOSL)

Ecuador - Colectivo mujeres de asfalto / Fundacion de accion social e integral mujeres de asfalto

El Salvador - SERR

Eswatini - Swaziland Democratic Nurses Union

Fiji - Diverse Voices and Action (DIVA) for Equality

Gabon - Fédération Libre des Agents des Collectivités Locales du Gabon (FAL)

Germany - KOK - German NGO Network against Trafficking in Human Beings

Ghana - Ghana Registered Nurses and Midwives Association

Guatemala - SIGEDIIGSS

Honduras - Federación Unitaria de Trabajadores de la Salud de Honduras

Honduras - Asociación nacional de anestesista de Honduras

India - LJD

Ireland - European Services Strategy Unit/UNISON

Jamaica - Jamaica Association of Local Government Officers

Jamaica - Jamaica Civil Service Association

Japan - JICHIRO

Kenya - Kenya county goverment workers union - wajir branch

Kenya - Union of Kenya Civil Servants

Kenya - Jamaa REsource Initiatives

Kenya - Nawi - Afrifem Macroeconomics Collective

Liberia - National Health Workers' Union of Liberia(NAHWUL)

Lithuania - Lithuanian Trade Union of State, Budget and Public Service Employees (LTUSE)

Malaysia - International Women's Rights Action Watch Asia Pacific (IWRAW Asia Pacific)

Mauritius - RODRIGUES GOVERNMENT EMPLOYEES ASSOCIATION

Mauritius - Federation of Parastatal Bodies and Other Unions (FPBOU)

Mexico - Impulsac, A.C.

Mexico - Centro de Derechos Humanos Fr. Francisco de Vitoria O.P., A.C.

Mexico - Sindicato Único de Trabajadores Profesionistas, Administrativos y Manuales del Poder Judicial del Estado de Yucatán

Mexico - Sindicato Único de Trabajadores Profesionistas, Administrativos y Manuales del Poder Judicial del Estado de Yucatán

Mexico - Sindicato de Trabajadores de la Universidad Nacional Autónoma de México (STUNAM)

Nepal - National Campaign for Sustainable Development Nepal

Nepal - Alliance Against Trafficking in Women and Children in Nepal (AATWIN)

Nepal - Women's Rehabilitation Centre (WOREC)

Netherlands - Transnational Institute (TNI)

Netherlands - La Strada International

New Zealand - New Zealand Public Service Association (NZPSA)

Nicaragua - Red Nicaragüense de Comercio Comunitario (RENICC)

Nicaragua - Union Nacional de Empleados UNE - FNT.

Nigeria - National Association of Nigeria Nurses and Midwives

Norway - PION - Sex worker's interestorganization in Norway

Pakistan - Shirakat - Partnership for Development

Paraguay - Sindicato de Funcionarios Judiciales del Paraguay SIFJUPAR

Paraguay - Asociación Paraguaya de Enfermeria

Peru - Central Autónoma de Trabajadores del Perú

Philippines - Public Services Labor Independent Confederation

Portugal - A Coletiva

Portugal - Associacão de Combate á Precariedade - Precários Inflexí­veis

Saint Lucia - St. Lucia Civil Service Association

Senegal - Syndicat National des Agents de l'Administration Publique et Parapublique (SNAAP)

Serbia - ASTRA - Anti trafficking action

Spain - Observatorio de la Deuda en la Globalización

Taiwan - Ditmanson Medical Foundation Chia - Yi Christian Hospital Corporate Union (DMFCYCHCU)

Tanzania - Researchers, Academicians and Allied Workers Union (RAAWU)

Thailand - APWLD

Trinidad and Tobago - National Union of Government and Federated Workers (NUGFW)

Turkey - Human Resource Development Foundation

Uganda - MEMPROW - Mentoring and Empowerment Programme for Young Women

Ukraine - CSO "La Strada - Ukraine"

United Kingdom - Unite the union

United Kingdom - UNISON

United Kingdom - WIEGO (Women in Informal Employment: Globalizing and Organizing)

United States - Sisters of Charity Federation

United States - American Federation of Teachers

Uruguay - Social Watch

Individuals:
Argentina - Marcelo Di Stefano - APUBA

Argentina - Johanna Rudich - Crear vale la pena

Argentina - Viviana Garcia - iFCI-fesprosa

Argentina - Ana Trifiro - APTS FESPROSA

Argentina - María Alejandra Arlegui - SUTEPA- Sindicato Unido de Trabajadores y Empleados del Pami

Argentina - Gerardo Codina -

Argentina - Rocio - Universidad De Avellaneda - UNDAV

Argentina - Karina Navone - Sindicato Gran Buenos Aires de Trabajadores de Obras Sanitarias (SGBATOS )

Argentina - Ramona Lopez - APTASCH FESPROSA

Argentina - Mirta Gloria Viola - Sitrasap- Fesprosa- CTA A

Argentina - Miguel Aguirre -

Argentina - Mirta - Salud

Argentina - Mariano Diaz Briz - FESPROSA

Argentina - Ariel Nino Monzón - Argentina

Armenia - Armaghanova Gayane - Republican Branch Trade Union of Health Workers of Armenia (HWUA)

Armenia - Arsen Igityan - Union of State, Local Government and Public Service Employees (USLGPSEA)

Australia - Josephine Foster - United Workers Union

Australia - Tom Reddington - Public Services International

Australia - Eva Cox -

Bangladesh - Paul Provakar Saha - Professional Consultant to NGOs in Bangladesh

Bangladesh - Nargis Jahan -

Belgium - Vroni Lemeire - ABVV-FGTB Brussels

Belgium - Tola Ositelu - International Trade Union Confederation

Belgium - Catherine Boeckx - EPSU

Belgium - Claire Wouters - ACOD/CGSP

Bermuda - Linda Bogle-Mienzer - BPSU

Brazil - Rafael Soares Lemos de Farias - GLU

Brazil - Flávia Gomes da Silva Nozue - PSI Interaméricas

Brazil - Euan Gibb - PSI Interamerica

Brazil - Aline Cyrillo - Entrepreneur

Brazil - Carolina Pastorin Castineira - Sindicato dos médicos de São Paulo - SIMESP

Brazil - Denise Motta Dau - Internacional de Serviciós Publicos

Brazil - Eliane Aparecida da Cruz - Setorial Nacional de Saúde do PT

Brazil - Euan Gibb - Public Services International

Brazil - Ozanir Evangela Oliveira - Sindsep Quixadá

Brazil - Geici Maiara Brig - Sindicato Único dos Trabalhadores no Serviço Público Municipal de Blumenau (SINTRASEB)

Brazil - João Guilherme de Paula Martins - Sindicato dos Trabalhadores Públicos da Saúde no Estado de São Paulo (SINDSAÚDE-SP)

Brazil - Jucélia Vargas Vieira de Jesus - CONFETAM CUT

Brazil - Kátia Cristina Rodrigues Silva -

Brazil - Kátia Cristina Rodrigues Silva - Federação dos Sindicatos dos Servidores Públicos no Estado de São Paulo (FESSP-ESP)

Brazil - MARIA SALETE CROSS - Confederação Nacional dos Trabalhadores na Saúde (CNTS)

Brazil - Sheila Maria Gonçalves da Silva -

Brazil - Sueli Silvia Adriano - Federação dos Trabalhadores Municipais de Santa Catarina (FETRAM-SC)

Brazil - Thiago Álvares Feital - UFMG

Bulgaria - slava zlatanova - Federation of Trade Unions - Health Servics - Citub

Bulgaria - Nadia Kozhouharova - Animus Association Foundation

Canada - Dawn Learning - Canadian Union of Public Employees

Canada - Maxime Larcher - APTS

Canada - Amar Nijhawan, she/her -

Canada - Laure Letarte-Lavoie - Alliance du personnel professionnel et technique de la santé et des services sociaux APTS

Canada - Shirley Dorismond - Fédération interprofessionnelle de la santé du Québec - FIQ

Canada - Michele Girash - Public Service Alliance of Canada

Canada - Mary Shortall -

Canada - Line Camerlain -

Canada - Nancy Gelinas -

Canada - Julie Labrosse -

Chile - Karin Mendoza - Anejud Chile

Chile - Nidia Bravo - ANEIICH

Chile - Carolina Rudnick - Fundación Libera contra la Trata de Personas y la Esclavitud en Todas sus Formas

Chile - Giorgio Boccardo - Fundación Nodo XXI

Chile - yessenia rodriguez - Fenpruss

Chile - María Alicia - atención primaria de salud

Chile - Ana Maria Vera Haro - Candidatura Popular y Feminista a la Constituyente Distrito 23.

Chile - Andrea Brito Pérez - Confederación Nacional de Funcionarios de la Salud Municipalizada (CONFUSAM)

Chile - Angela Rifo C - Agrupación Nacional Empleados Fiscales (ANEF)

Chile - carolina aravena zuñiga - Confederación Nacional de Funcionarios de la Salud Municipalizada (CONFUSAM)

Chile - Celso - Confederación Nacional de Funcionarios de la Salud Municipalizada (CONFUSAM)

Chile - Claudia Frías Amestica - Confederación Nacional de Funcionarios de la Salud Municipalizada (CONFUSAM)

Chile - Elizabeth - Confederación Nacional de Funcionarios de la Salud Municipalizada (CONFUSAM)

Chile - Fabiola Fuentes Guzman - Confederación Nacional de Funcionarios de la Salud Municipalizada (CONFUSAM)

Chile - Gisella Valenzuela Artigas - Cecosf Escuadrón

Chile - Lennin Gallardo Valdés - Confederación Nacional de Funcionarios de la Salud Municipalizada (CONFUSAM)

Chile - Leonardo Parraguez Gallardo - Asociacion base de atención primaria la florida, CONFUSAM

Chile - Maria Elena Rozas Pino - Confederación Nacional de Funcionarios de la Salud Municipalizada (CONFUSAM)

Chile - Marianela Herrera Vera -

Chile - Nayareth Quevedo - ISP

Chile - Patricia mesina garcia -

Chile - Patricio Orellana Nuñez - Confederación Nacional de Funcionarios de la Salud Municipalizada (CONFUSAM)

Chile - Viviana Apablaza Gajardo - Confederación Nacional de Funcionarios de la Salud Municipalizada (CONFUSAM)

Chile - Virginia González Miranda - Confederación Nacional de Funcionarios de la Salud Municipalizada (CONFUSAM)

Chile - Carmen Albornoz Gallegos - Asociación de Fiscalizadores de Impuestos Internos de Chile (AFIICH)

Chile - Fernando Riveros - Anfsml

Chile - Nidia Bravo Osorio - Asociación Nacional de Empleados Impuestos Internos (ANEIICH)

Chile - Tania Melnick - Comunicadora Social

Chile - Ernesto -

Chile - Aurora -

Chile - Sabrina Montecinos Verdejo -

Chile - Catherine concha vera -

Chile - Bexsabe -

Chile - Paola Erazo Arredondo -

Chile - Sandra Quinteros Concha -

Colombia - Mabel Jaraba Contreras - SUDEB- sindicato único de trabajadores de la educacion

Colombia - Julian Andres Corrales - Ninguna

Colombia - Gloria Silvia Ramirez Rojas - Asociación Sindical de Servidores Públicos del Ministerio de Defensa, Fuerzas Militares, Policía Nacional (ASODEFENSA)

Colombia - Ruth Lora Londoño - UNETE

Côte d'Ivoire - Ouattara épouse Nguessan Tiekhou Antoinette - Syndicat National des sages-femmes ivoiriennes (SYNSFI)

Dominican Republic - Luisa Soto -

Ecuador - Marí­a Augusta Carrillo - CONASEP

Ecuador - Jessica Johanna Rivera Ulcuango -

Ecuador - Angelica Ordonez - Asociación de Funcionarios y Empleados de la Universidad Andina Simón Bolívar Subsede Ecuador (ASOUASB)

Ecuador - Vanessa Bosquez - Independiente

Ecuador - Ginger Tumbaco Quintero - Confederación Nacional de Servidores Públicos del Ecuador (CONASEP)

Ecuador - Gloria Minango Narváez - Consejo Nacional para la Igualdad de Género

Ecuador - Miguel Borja -

Ecuador - Maritza Zambrano - Sindicato Nacional Unico De Trabajadoras Remuneradas Del Hogar Ecuador

Ecuador - Sisa Madrid - Compañía Nacional de Danza

France - Hervé Wittmer - CFDT santé-sociaux

France - GIL - CFDT

France - Muriel Marcilloux - FNME CGT

France - Le Noc - CFDT SANTE SOCIAUX

France - William MONCEL - CFDT Santé-sociaux

France - Agustina Soto Acebal - Public Service International

France - Aurore Capelier -

France - Hazel Ripoll - Public Services International

France - Marcelo Netto - Public Services International

France - Mike Waghorne - Retired - formerly with PSI.

France - Veronika Tober - Public Services International

France - Nicolas Cengarle -

Germany - Lea Rakovsky - Ban Ying e.V.

Germany - Alexa Wolfstädter - ver.di

Germany - Sophia Wirsching - German NGO Network against Trafficking in Human Beings - KOK e.V.

Germany - Philipp Effertz -

Guatemala - Kevin Alexander Junior Carrera Vielman - Comité Nacional de Juventudes ISP Guatemala

Guatemala - Delmy Cano -

Guatemala - Douglas Saban -

Guatemala - Lesbia Xiomara Conde Pacheco -

Honduras - Cindy Rodriguez -

Honduras - Martha hernandez -

Honduras - Digna Nazareth Rivera Reyes -

Honduras - Miguel Angel Mejia Maldonado -

Honduras - José Antonio Núñez Murillo -

Honduras - Nelson ramon fuentes colindres -

India - Sharmistha Barwa - Independent consultant

India - Banaani Deka - Public Services International

Italy - Nicoletta grieco - Fpcgil

Jamaica - Melaini Mullings-Arnold - Jamaica Civil Service Association

Jamaica - Techa Clarke-Griffiths -

Lebanon - chahnaz El Zein - Public Services International

Lebanon - Joumana Al Azar - Public Services International

Lebanon - Najwa Hanna - PUBLIC SERVICES INTERNATIONAL

Mali - maiga issoufi - federation des syndicats du secteur public IS MALI

Mauritius - Manisha Goodary Tauckoor - Federation of Parastatal Bodies and Other Unions (FPBOU)

Mexico - Montserrat Zurita Medina - Sindicato de trabajadores de la universidad nacional autónoma de méxico

Mexico - Sulima Garcí­a - Universidad Autónoma de Querétaro

Mexico - Mauricio Hernández - STUNAM

Mexico - Judith Cuellar - Stunam - México

Mexico - Rubá­ Carla Gutiérrez - Stunam

Mexico - Cesar - Stunam

Mexico - Valentina Zendejas Moheno -

Mexico - César Aguilar Reyes - STUNAM

Mexico - Angélica Sánchez Santiago - Comunicacion Intercambio Y Desarrollo Humano En America Latina A C

Mexico - Guadalupe Guillermina Carmona - Centro de Apoyo para el Movimiento Popular de Occidente, A. C.

Mexico - Gina Guadalupe Arellano Castillo - Sindicato Democrático Independiente de Trabajadores del Sistema de Transporte Colectivo Metro

Mexico - ANA LAURA RAMÍREZ HUITRÓN - RED DE TRABAJADORAS DE LA EDUCACIÓN SNTE

Mexico - Lourdes García Acevedo - Frente Feminista NACIONAL

Mexico - MARIA DEL CARMEN ORDAZ - Coordinación Feminista Olimpia de Gouges, AC.

Mexico - Mercedes Olivera Bustamante - CDMCh

Mexico - Monica Jimenez - Sindicato Mexicano de Electricistas

Mexico - Blanca velazquez - Centro de Apoyo al [email protected]

Mexico - Clara Jusidman -

Nepal - Jeni Jain Thapa - Public Services International

Netherlands - Rachel Walker -

New Zealand - David Gerbault -

New Zealand - Caleb Gordon - New Zealand Public Service Association (NZPSA)

New Zealand - Lucy Andreetti - New Zealand Public Service Association (NZPSA)

Nicaragua - Francisca Yesenia Jiron Duartea -

Nicaragua - Adriana Espinoza - FESITUN

Pakistan - Abdul Haleem - All Pakistan Labour Federation (APLF)

Panama - Luis Antonio Dominguez -

Panama - Alejandro Haynes -

Paraguay - David Campos - Sitrande

Paraguay - Rocio - APE

Paraguay - Silvia Beatriz Araújo Amarilla - Sitrama

Paraguay - Blanca Rodríguez Otazú - Asociación Paraguaya de Enfermeria

Paraguay - Fátima Fernández -

Paraguay - Maria Concepcion Chávez -

Philippines - Violeta P. Fernandez - PSLINK/ BINAN INTEGRATED NATIONAL HIGH SCOOL FACULTY ASSS.

Philippines - Flor Lamit - Amang Rodriguez Memorial Medical Center

Philippines - Glen Q Pastorfide - Public Services International

Philippines - Victor G. Chiong - Public Services International

Poland - FrÄ…czkiewicz-Wronka Aldona -

Portugal - Valentina Montanaro -

Portugal - José Soeiro -

Portugal - Beatriz Pedroso -

Portugal - Katarina Da Silva -

Portugal - Joana Canedo -

South Africa - Sandra van Niekerk - Public Services International

South Africa - Naadira Munshi -

South Korea - Youngbae Chang - Korean Public Service and Transport Workers' Union (KPTU)

Spain - DAVID FERNÁNDEZ -

Spain - Erica Gutiérrez Méndez -

Spain - Carmen Escandón Garcí­a - [email protected]

Spain - Gloria Mora Campos - UGT

Spain - Carmen Riesgo López -

Spain - Lurdes - Ugt

Spain - Pilar González Ferrer - Unión General de Trabajadores

Spain - Manuela -

Spain - María Teresa Rodríguez Blanco - UGT

Spain - Dolores Gómez Jiménez -

Spain - Alejandra Lago Cameselle -

Spain - María Jesús de la Flor -

Spain - Angel Gasque -

Spain - Ángel Iglesias Fernández - UGT Coruña

Spain - María Ángeles Fernández Cillero - Organización Mundial De Cuidados

Spain - Carlos Agrasar Cruz -

Spain - Carlos Dãaz del Rão - UGT

Spain - María -

Spain - FeSP UGT Tarragona - FeSP UGT

Spain - Sector de Enseñanza - FeSP-UGT

Spain - Delia Irene Martinez Conde -

Spain - Jaime Durán García - UGT

Spain - José Manuel Núñez Soutullo - UGT

Spain - Jose seijas Amigo - hospital clinico de santiago

Spain - Juana Rodríguez Abellelleira - UGT

Spain - Olga Lc -

Spain - Victor Pariente Contreras - Union General de Trabajadores

Spain - Leticia Velo Castro - UGT

Spain - MARIA JOSE DACOSTA ARGIBAY -

Spain - García Navarro Milagros - FESP-UGT

Spain - Purificación -

Spain - Regina Rodríguez Rodriguez - UGT

Spain - Rocío Meira Carrillo - UGT

Spain - Rubén - UGT

Spain - Silvia Iglesias Sanchez - UGT

Spain - José Antonio Gómez Gómez - UGT Galicia

Spain - luis fernandez lopez - UGT

Spain - Jorge Fortes -

Switzerland - Catherine A Kane -

Switzerland - Olivier Zimmermann -

Tanzania - Eym Maria - WATED

Togo - Charlotte Kalanbani - Public Services International

Uganda - Immaculate Mukasa - MEMPROW - Mentoring and Empowerment Programme for Young Women

Uganda - Maurine Aber - All in One Women's Association

United Kingdom - Dave Chappell -

United Kingdom - James Graham Corscadden - TUC

United Kingdom - Laura Denham - Individual

United Kingdom - David Kirby - Doctors In Unite

United Kingdom - Diane Elson - UK Women's Budget Group

United Kingdom - Jackie Lewis - UNISON

United Kingdom - Luke Holland - Tax Justice Network

United Kingdom - Penny Smith - UNISON

United Kingdom - Sophie Efange - Gender and Development Network

United Kingdom - Tamara Gausi - ITUC/Equal Times

United Kingdom - Hannah Bristow -

United Kingdom - Larry Sanders -

United Kingdom - Sally F Spear -

United Kingdom - Patrick Browne -

United Kingdom - Joan Hughes -

United States - Marisol - The World, sponsored by God

United States - Pablo Stein - AFT

United States - John C Bhend - AFSCME Local 52

United States - Jan Hochadel - AFT/AFT-CT

United States - Gawain Kripke - independent

United States - Raimo Kangasniemi -

United States - Steve Porter - Public Services International

United States - Valentine M Moghadam - Northeastern University

United States - florencia giordano - Women Entrepreneurs of NYC, NYC Dept. of Small Business Services

United States - Alex Lefkowitz -

Zimbabwe - Mavies Sibanda - Zimbabwe Urban Councils Workers Union (ZUCWU)
Act now
Subscribe to campaign alerts
Contribute files and links anonymously