سلامة العمّال تنقذ الأرواح
Apr 29, 2020
يشكل فيروس الكورونا المستجدّ تهديدًا خطيرًا لموظفي الخدمة العامة المتواجدين على خطوط الدفاع الأولى - وخاصة العاملين في مجال الصحة.
We rely on them to save countless lives - but for them to be able to do their job, governments across the world must take stronger action now:
We need sufficient Personal Protective Equipment (PPE) and training so we can stay healthy while saving lives.

We need targeted measures to support health workers who will be working incredibly long hours: care must be provided for their children and other dependents too.

We need provisions for home working, paid sick leave, emergency unemployment benefits, and above all, free public healthcare for ALL.

We need well-staffed and resourced public health systems, equipped to respond to public health emergencies.
The ongoing Coronavirus outbreak is exposing the vital need for quality public services - especially well-staffed, resilient public health systems.
This is a matter of life and death
Video
Nurse George Poe Williams watched colleagues die as Ebola decimated the Liberian health workforce. Now, he has a message for governments around the world facing the #CoronaVirus: #SafeWorkersSaveLive. Join PSI's Campaign now at peopleoverprofi.it
Safe Workers Save Lives
What can I do?
Fill in our survey and upload materials, resources and strategies for workers and unions dealing with the virus outbreak.

Share stories, photos, videos and testimonies from the front lines of the fight against the virus

Download our Poster to display at your workplace or share with your members.

Sign our petition below for Personal Protective Equipment and training for all workers who need it.

Browse our library of materials on COVID-19 for workers and unions.
What can unions do?
Fight for the active involvement of trade unions in government decision-making to safeguard workplace safety and health and ensure the costs of this crisis are not borne by the working class.

Contribute to policies which ensure all workers, including informal sector workers, casual or sub-contracted workers, are provided sufficient sick-pay and leave allowances for any necessary quarantine or when their workplaces are temporarily closed down to curtail transmission of the infection.

Push for the ILO guidelines on decent work in public emergency services to be adopted at the national level, to safeguard workers on the front line, as well as ILO Conventions 155, 187 and ILO Recommendations 194, 197, 171 and Protocol to Convention 155.

Stand up for the rights of migrants and refugees as part of the national COVID-19 response and combat all forms of xenophobia and racism.
Safe Workers Save Lives! We call on governments to do all in their power to provide workers in the health sector and frontline public services with the Personal Protective Equipment and training they need to save lives as well as quality working conditions to ensure they are not put at undue risk in the fight against Coronavirus.
PSI COVID-19 Response - UNION SURVEY
To protect workers the world over, we need your help to compile information and materials to share with unions and those on the frontline. We will also use these materials to develop our advocacy with regional and global institutions.
CLICK HERE TO FILL IN THE SURVEY
Your rights as a health worker
We've made this modifiable poster for you to print and share - download a PDF of the poster in English - Français - Español.
Different formats, translations and downloads are available on this constantly updated page.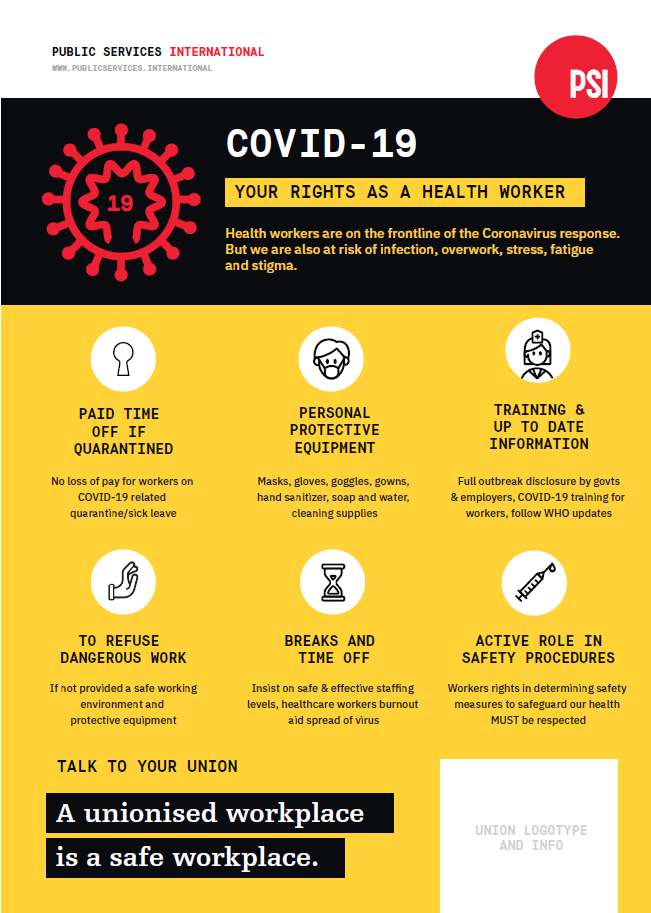 Our Campaign Goals
Immediate goal:
Ensure all public service workers, particularly health workers, have the quality working conditions and PPE they need so they are not put at undue risk in the fight against Coronavirus.
Forge global solidarity by sharing materials and strategies between unions from across the world to help keep members safe.

Collect testimonies from frontline workers to illustrate the challenges we are facing.

Pressure governments to take stronger action to protect workers, ensure effective staffing for healthcare delivery and respect for fundamental labour rights and principles.
Long term goal:
Build stronger, universal public healthcare systems which are well-resourced, well-staffed and better prepared to respond to future health crises.
Expose the deadly cost of austerity in exacerbating the health challenge posed by Coronavirus.

Produce research materials collecting both worker testimonies and qualitative data on Coronavirus response to build the case for increased resources and staffing for public healthcare and the need for more resilient public health systems.

Highlight how the Coronavirus response shows the need for strong public intervention which put people's health first to deal with future challenges, including the climate crisis.
For more information on the long-term PSI COVID-19 Response Plan, check out our Public Health Once and For All campaign concept note.
Background
The new coronavirus (COVID-19) pandemic poses a challenge of historic proportions to humankind. The global spread of the outbreak has been exponential. And, it might still be far from reaching its peak. It is estimated that between 40 and 70 percent of the world population would be infected if far-reaching decisive steps are not taken urgently. With an estimated global case mortality ratio of 5.7%, that means more than 100 million people could die.
Unfortunately, while there have been efforts to combat "the alarming levels of spread and severity" of the pandemic, the World Health Organization has also expressed grave concern at "the alarming levels of inaction." Many governments have failed to put measures in place to protect our communities and frontline staff. For example, while countries such as Denmark, France and Italy have taken steps to ensure the physical safety and social-economic wellbeing of residents (including pay for workers quarantined or furloughed), some of the richest countries in the world have rather taken steps to shield their economy without putting in place adequate health and social protection measures. The United States government alone, for example, quickly committed as much as $1.5tn to save the markets, while it took weeks before passing an inadequate health response bill.
Not only has needed action within countries been inadequate in several instances, there is also need for greater international solidarity at this point in time. Countries must clearly comprehend that borders cannot keep out the spread of the virus. The case of the EU and its initial inaction has to be guarded against as the pandemic spreads.
Some global leaders are fuelling the flames of racism and xenophobia. Comments such as that of Mr Donald Trump, the United States president describing the new coronavirus as a "foreign", "Chinese" virus create a toxic atmosphere of fear and despair. On social media and on the streets, South East Asians have been attacked in Europe and North America.
In countries with limited testing facilities, the "worried wealthy" have besieged doctors with demands for private coronavirus testing, as well as "intravenous infusion of vitamins and minerals to boost their immune systems." But wealth must not be the basis of testing or access to treatment. Governments must ensure universal access to testing and treatment for an effective response to the pandemic.
Public service workers, particularly in the healthcare sector, are bearing the brunt of the response to COVID-19, facing circumstances which have been compared to "a world war."
Years of privatisation and austerity measures have left public health facilities underfunded and understaffed. The coronavirus pandemic reveals the deep crisis of neoliberal policies and the negligent failure of governments to take needed actions for achieving the Sustainable Development Goals. We cannot solve this crisis with more of the measures which are exacerbating its spread. We need a massive, public-driven response.
The greatest tragedy is that we should have learnt this by now. PSI and our affiliates were on the front lines in the fight against Ebola just five years ago. We saw how vulnerable our countries' health systems were. We called on governments to increase funding, resources and staffing for the sector.
In 2016 the UN's High-Level Commission on Health Employment and Economic Growth (of which PSI was a member) noted that "with the Ebola outbreak in West Africa, we have seen how inaction and chronic under-investment can compromise human health, and also lead to serious economic and social setbacks." It identified investment in health workers as "the first line of defence against international health crises". Governments were urged to relax austerity measures in favour of fiscal expansion policies, prioritizing investment in job creation to strengthen health systems and meet the projected shortfall of 18 million health workers by 2030. The commission was clear with its message: "business as usual is untenable".
If these warnings were heeded, we would be much better prepared for this crisis.
The WHO Director General, Dr Tedros Adhanom Ghebreyesus warned in February that the world may be dangerously unprepared for the next pandemic. He noted that "for too long, the world has operated on a cycle of panic and neglect," adding that governments "throw money at an outbreak, and when it's over, we forget about it and do nothing to prevent the next one."
This pandemic must be a wake-up call to world leaders. Putting profits ahead of the people undermines the strong public action we need to respond to the epidemiological and climate crises and tackle global inequality.
Act now
Contribute files and links anonymously